Description
LoChamp TGSS series chain conveyor is a kind of conveying equipment to transport diffuse raw materials in the closed rectangular shell by moving scrapers and chain. It is suitable for transporting powder, pellet and small block raw materials, can be widely used in raw materials'level transporting in feed mill, flourmill, rice mill, oil plant, starch factory with different capacities and grin storage, port etc.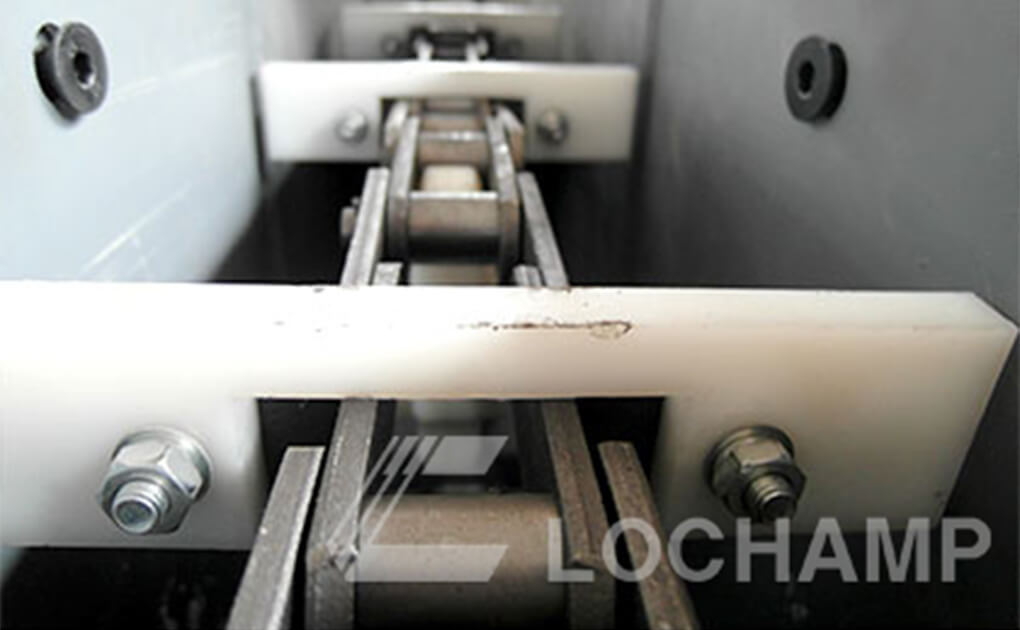 Features
1. Shaft end uses the latest packing seal to ensure no leakage.
2. New patented antiblocking device, flexible and safe with good sealing performance.Adjustable feed plateat inlet can adjust feeding volume, to ensure the best working condition, to coordinate front and rear equipment.
3. Movable body at the tail can minimize the residue; flexible scraper plate and feed-back cup on the chain,minimizing the residue at machine head.
4. Full assembly type mechanical design, easy maintenance.
Parameters
Model

Power(kw)

Chain speed(m/s)(kw)

The transportation(m)
(t/h)

Conveying capacity(m3/h)

TGSS20

2.2

0.32

3-8

40

3

0.32

8-17

40

4

0.32

17-28

40

5.5

0.32

28-45

40

7.5

0.32

45-60

40

TGSS25

3

0.32

3-14

50

4

0.32

14-23

50

5.5

0.32

23-37

50

7.5

0.32

37-55

50

11

0.32

55-60

50

TGSSK32

4

0.45

3-12

95

5.5

0.45

12-19

95

7.5

0.45

19-29

95

11

0.45

29-46

95

15

0.45

46-60

95